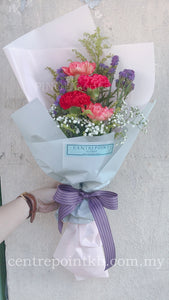 Gratefulness Of Carnation (RM 45.00)
Regular price RM75.00 MYR Sale
RM 40.00 (Excluding delivery charges)
Carnation represent love and care for others like teacher, mom, nurse, or someone you feel grateful for.  Sent a bouquet of carnation to show your gratefulness. This simple looking bouquet consisting of carnations and other mix flowers might just be the right thing to get for this mother's day .
Just add on RM 5.00 to get a love shape black board to show your gratitude towards someone you care
Kindly contact our friendly staffs at 09-748 2600 or 018-9021 999 to order 
* Photos are served as samples.
* Fresh Flowers are highly subjected to availability.
* Flowers that unavailable will be replaced with flowers of similar or higher value. 
________________________________________________________________
RM 40.00 (Tidak termasuk transport)
Carnation melambangkan kasih sayang atau terhutang budi terhadapnya seperti guru, jururawat,emak dan sebagainya. Hantarlah sejambak carnation kepadanya untuk menunjukkan perasaan terima kasih anda terhadapnya. Sejambak bunga ini mempunyai carnation dan campuran bunga yang lain, dengan harga yang berpatutan.
Tambah RM5.00 untuk papan hitam love untuk menunjukkan perasaan terima kasih anda terhadapnya.
Jika anda ada sebarangan yang berminat sila menghubungi kami untuk membuat pesanan atau mendapatkan maklumat lebih lanjut.Tel: 09-748 2600 / 018-9021 999