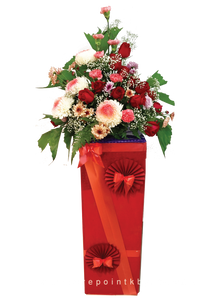 Opening Stand 028 (RM 150.00)
Regular price RM150.00 MYR Sale
A one layer congratulatory flower box suitable for any grand openings or happy ceremonies/occasions! Send your blessings and best wishes to the ones you care.
Free delivery within Kota Bharu city area.
FOC A4 size card with printed message

*All fresh flower products are subjected to availability. Any unavailable items will be replaced with other items of similar value without prior notice.
**Website ordering is not available for every fresh flower products.
Kindly contact our friendly staffs at 09-748 2600 or whatsapp 018-9021 999 to order or to quote for delivery charges (outside Kota Bharu city area) 
_________________________________________________________________
RM150.00
Stand kotak bunga taniah satu lapis ini sesuai untuk upacara pembukaan rasmi dan majlis/pesta yang meriahkan. Hantarkan hajat anda kepada orang yang tersayang menunjukkan perasaan anda.
Hantaran percuma di kawasan Kota Bharu.
Percuma sehelai kad A4 dengan mesej bercetak
* Semua bunga segar terpulang kepada stock semasa. Bunga yang kehabisan stock akan digantikan dengan bunga yang lain dengan nilai yang sama tanpa notis.
**Semua produk bunga segar tidak boleh ditempah melalui laman web.
Sila hubungi kakitangan kedai kami untuk maklumat lanjut di 09-748 2600 atau whatsapp 018-9021 999 untuk pesanan atau caj hantaran di luar kawasan kota bharu